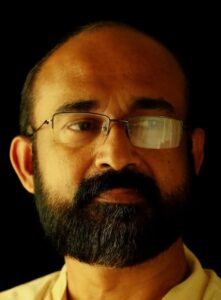 About the Artist
Born in 1960, Kanjirappally, Kottayam Dt. Kerala State, South India. S/o Mrs.Aliyama Joseph (from an agricultural background of Changanassery) and Mr. J.Y. Joseph Njallimakkal -Artist cum Photographer of British Air force turned INA (Indian National Army) soldier, founder president of Kanjirappalli Rubber Marketing Society ' Rubber Board Member.
Name of Spouse : Lilly Eby
Children     : Angel Eby, Alphin Eby
ART EDUCATION
BFA Honors in Painting
Trained at Kerala School of Arts, Thalassery, under the guidence of Artists C.V.Balan Nair, T.Anandan, PS.Karunakaran and M.V. Venugopal.
SOLO SHOWS
Town Bank Auditorium, Kannur – 2000
Kala Academy, Goa – 2000
Park Mahe – 2001
Jahargir Art Gallery – 2001
Sree Narayana Mandira, Samithi, Mumbai – 2002
Kerala Lalitha Kala Akademy Art Gallery, Kozhikkode – 2002
Jawhar Kala Kendra, Jaipur- 2003
Rajaputhana Sheraton, Jaipur – 2003
Art Chamber, Kalangute, Goa – 2004
Chithrakala Parishath , Bangalore – 2004, 2005, 2006, 2007.
Lalith Kala Akademy Regional Centre, Chennai – 2005, 2013.
Hotel Surya International, Pondichery – 2005.
Durbar Hall Art gallery Cochin – 2004, 2006, 2013.
D.C Kizhakkemury Idom, Kottayam – 2006.
Russian Cultural Centre, (Gorky Bhavan) Thruvananthapuram – 2004, 2006, 2010.
State Govt. Art gallery (Chithramayee), Hyderabad – 2006.
Hotel Charring Cross, Ooty – 2006
Travancore House, New Delhi – 2007
Army and Navy Building Mumbai – 2007
Collector's Stop New Delhi – 2007
Chithram Art Gallery, Cochin- 2007
Alliance Francise, Pondicherry – 2007
Kasthuri Srinivasa trust, Coimbatore, 2008
Jawahar Public Library, Kannur 2008
Hotel Gokulam Park, Ernakulam -2008
Russian Cultural Centre, Chennai – 2008
Lalit Kala Academy Gallery, Delhi 2007, 2012
Life of Gandhi, Kannur 2015
Chithrakala Parishath, Bangalore 2015
Exhibition at Kontraste, Germany, Ayle Castle Germany, Tati Germany, 2019
Several group shows conducted across the country and abroad.
PERMANENT GALLERY
Gandi Grama Swaraj Art Gallery of 3000 sq. ft. with 24 paintings at KILA (Kerala Institute Of Local Administration) Mulamkunnathukavu, Trisur. The single art gallery on Gandhi Gramaswaraj ever in the history of India. By Eby Art Gallery, Shivanantha Circle, Bangalore
HONOURS AND AWARDS
Honoured by 'Tharangam' for getting 1 st Rank in art studies – 1981.
Outstanding Young Indian Award by Indian Junior Chamber – 2001.
OYP by IJC. Kannur Chapter and Zone XIX- 2000.
Sankara menon Endowment gold Medel by Kerala Lalitha KaIa Akademy – 2004.
Achievement award by Kerala Market – 2007.
CP Raman Nair Award – 2010.
Gandhi Chair Award by Calicut University, Kerala – 2015.
Varnam (Colour) Award by Thalassery Archdiocese – 2016.
COLLECTIONS
Germany, Russia, Singapore, Canada, Norway, Italy, UK, USA, Switzerland. etc.
Aero Spaces, Bangalore.
Chithramayee Art gallery Hyderabad
Kerala Lalitha Kala Akademy Trichur
National Academy of Art, Regional Centre Chennai
Department of Tourism Pondichery
Adco Art Gallery Kannur, Secretariat Kerala
Rajastan
Chitrakala Parishat, Bangalore and many private collections.
MIRROR IMAGE DEMONSTRATIONS
Mirror image is an interesting artistic interaction between the artist, sitter and the viewers at the gallery. It is a research type painting demonstration consistent with the colour, form and structure of men and women. A portrait is being done by the artist without having a primary sketch by pencil charcoal or any other drawing materials. In this live demonstration, the sitter has to pose for 45 minutes to one hour. The medium is water color, oil, pastel or acrylic.
CURRENT STATUS
Chairman ART CAN CARE (Art for Cancer Care) – A supporting group for cancer patients and cancer winners.
Vice-Chairman- Kerala Lalitkala Academy.
President cum Manager – The Kerala School of Arts, Tralassery.
Karnataka Chitrakala Parishath , Artist Member
Director, BY EBY ART GALLERY and Training Centre, Bangalore.
An orator in art, ecology, education and socio-political topics
Writer in daily and periodicals
Author of the book "MY EXPERIMENTS WITH MAHATHMA", published by KILA
(Kerala Institute of Local Administration) – The book details the experience of Eby N Joseph on his Gandhi paintings.
Präsentiert auf der 3. DURLACH-ART von Bernd Vogel (Kurator)